Which Air Conditioner is right for your home?
The Value of AC
After record-breaking temperatures last year, it's no surprise that more homeowners are shopping for an air conditioner. And these major appliances aren't cheap with the cost of central A/C plus installation rising upwards to $5,000 or more. That being said, increasingly hot summers have meant that almost 50% of BC homes now use air-conditioning. A BC hydro survey from 2021 saw the heatwave encourage 20% of homeowners to either purchase or upgrade the existing AC unit in their property. Consumer analysis found that homes with air-conditioning sold for 2.5% more than homes without. As heatwaves are becoming more and more prevalent here in Vancouver, this number is only going to increase. Record breaking summers are making AC the new must have for Vancouver homes.

If you're thinking of upgrading your property, here are the four main types of air conditioning systems you can buy:
1. Window Air Conditioner
Window air conditioners come at the most affordable price with the smallest models starting at less than $200. The cheapest window A/C units have the smallest cooling capacity. Typically around 5,000 to 6,000 BTU, these units are only capable of cooling a 300 square foot room or smaller. Well these can be an affordable option to keep that condo cool for the summer, make sure to check your strata bylaws because these are often not allowed above the ground floor for safety reasons.
Our pick:
Model: LG LW1517IVSM
Cooling capacity: 14,000 BTU
Price:$550
This LG model comes with a powerful cooling capacity of 14,000 BTU and is able to cool an area of up to 800 square feet. While it is a bit bulkier and weighs around 98 pounds, it is exceptionally quick and effective, especially for a window air conditioner. In terms of the noise, you can expect a steady hum that blends in with the background. It features a Wifi control, which means you can easily turn it on and off from your phone, adding an extra touch of convenience.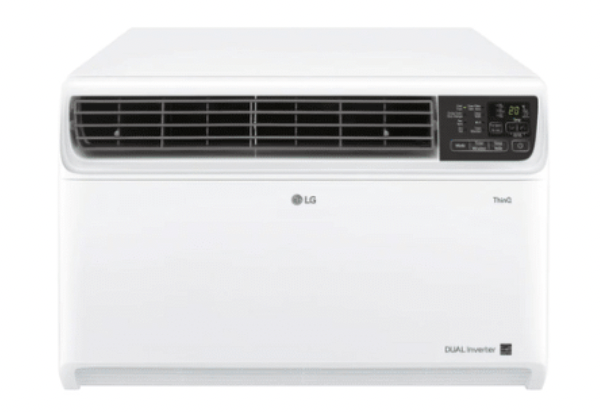 2. Portable Air Conditioners
Portable air conditioners are good for when you cannot install a window unit, such as condo buildings with restrictions as mentioned above. These models range between 9,000 and 15,500 BTU and start at $350 but can go to $1,000 or more. Most models also feature wheels allowing you to move them room to room The common disadvantages of portable models are that they tend to be noisier than window units. They are also not quite as portable as the name may suggest, often weighing around 50 to 80 pounds. Portable models can also be very pricey when compared to a wall mounted unit, with similar performance.
Our pick:
Model: Whynter ARC-14S Dual Hose
Cooling capacity: 14,000 BTU
Price: $1,000
This portable model comes with the ability to cool around 500 square feet. Being around 80 pounds, it still takes up a fairly large space for a portable air conditioner but Its dual-hose configuration enables more efficient and faster cooling. One of the best extra features is its self evaporating function which eliminates the need to drain water from your air conditioning unit. This air conditioner offers exceptional versatility. You can use it as a fan to circulate air without cooling it, or as a dehumidifier for a more comfortable home.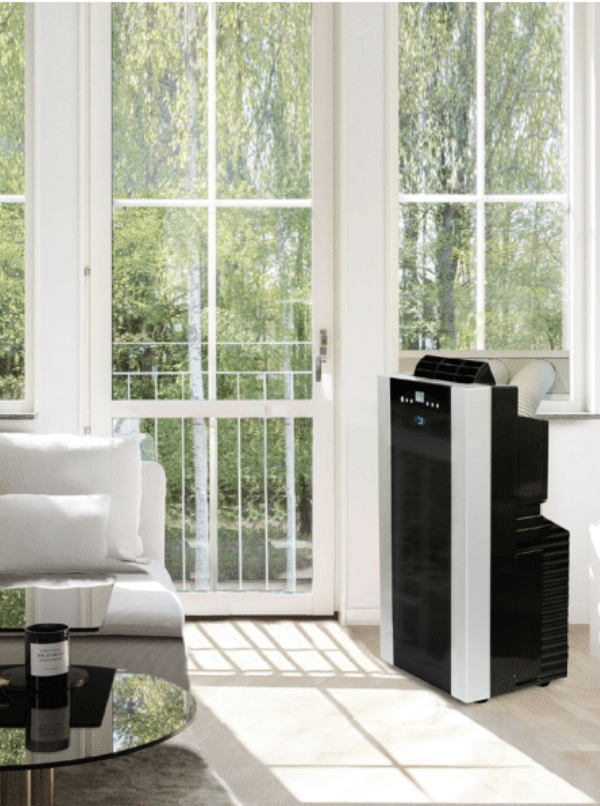 3. Split or Ductless Air Conditioners
If you want to avoid window installation but don't have the option for central A/C, then consider a split ductless air conditioner. Compared to the window and portable air conditioners, split ductless A/C units offer quiet operation. They are more pricey than portable or window units, costing upwards of $1,000; however, these offer better performance than portable AC units while still being cheap when compared to central A/C. An affordable midrange option.
Our pick:
Model: Fujitsu General Halcyon Wall Mounted RLF/RLX Series
Cooling capacity: 12,000 BTU
Price: $2,000-$4,000 depending on model + installation
This Fujitsu ductless heat pump comes in a variety of lengths, giving you the freedom to have the indoor unit 40-50 feet away from the outdoor unit. No need for ductwork means less energy loss which can result in up to 30% energy saving. The deoxidizing filters remove dust and dirt, ensuring a healthy home without mould. This model heats and cools with an efficient variable capacity inverter technology and boosts the comfort levels with an advanced humidity control A/C mode. Other convenient features include a wireless remote, a 24-hour timer with a sleep function, and a safe restart after a power outage.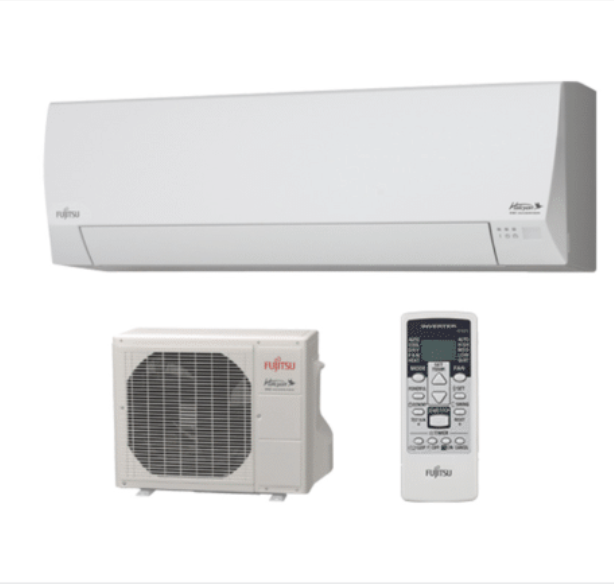 4. Central Air Conditioners
Installing a central air conditioning system in your home is an expensive investment but if you want a cool home for the summer and don't live in a condo, this is probably your best bet. The central air conditioning unit offers the best performance on a per square foot basis, since it offers consistent cooling across all the rooms in your home. Central A/C is also the quietest air conditioner unit of the options and often comes with advanced features like built-in timers or Wi-Fi thermostat compatibility for ease of use in the modern home. While a central conditioner unit will deliver efficient cooling, it will also cost you thousands of dollars being the most expensive option by a large margin. Cost of these units can vary greatly with some starting at $2,000 and others climbing to $10,000 or more. It's a big investment but could be a critical addition to your home with the summers we've been having, and definitely adds a big chunk of value to the home.
Our pick:
Lennox SL18XC1
Cooling capacity: 22,400 to 58,000 BTU
Price: $4500 - $6000 + installation
Lennox is one of the best, quietest, most energy-efficient central air conditioner brands on the Canadian market. It can be connected to a smart thermostat that maintains precise comfort through even temperatures, and consistent airflow, even when you're not at home. The enhanced home dehumidification system further improves air quality. It comes with an Energy star certificate saving you money on the utility bills and allowing you to qualify for energy rebates. Further high-end technologies include a silent fan motor with quiet operation and an option to combine it with a solar unit. For further peace of mind, it even comes with a generous 10-year warranty.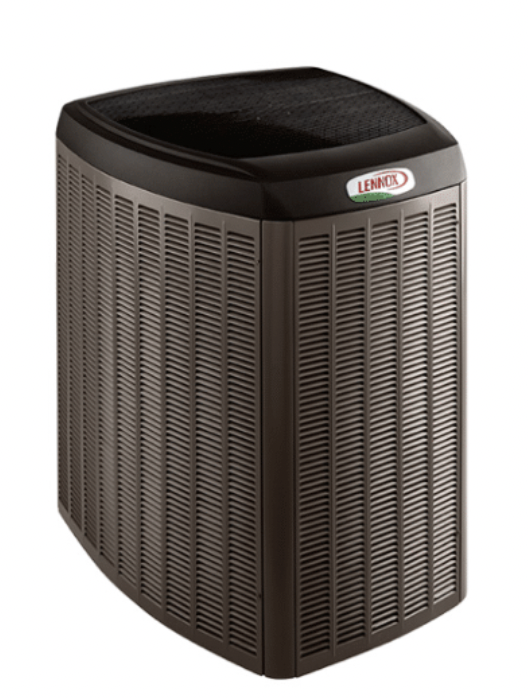 Selling Your Home?
Get your home's value - our custom reports include accurate and up to date information.
Get Home Value